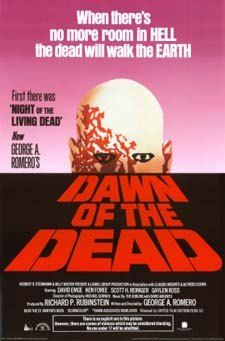 Guest Writer: Patrick Hickey Jr.

Over 30 years after it's original release, George Romero's "
Dawn of the Dead
" is still a horror classic that begs to be seen.
Featuring the amazing gore effects of horror legend Tom Savini, who later went to become a pioneer in the industry, going on to work in other notable horror films like "
Friday the 13th
and "
Creepshow
," "
Dawn of the Dead
" remains strongly atop the horror genre today because of Savani's masterful work, but it's ultimately the exceptional script that gives it the most staying power.
Much like Romero's other masterpiece, "
Night of the Living Dead
," "
Dawn of the Dead
" keeps the viewer on a roller coaster ride from start to finish. It's far from the type of predictable horror movie that has you screaming at the screen due to the incompetence of both the actors on screen and the development of a haphazard plot. Instead, Romero's films keep the watcher guessing and maintains a realistic timbre that wasn't seen in horror films 30 years ago and isn't seen in this day and age either.
"
Dawn of the Dead
," especially prescribes to this due to stellar performances from the cast and a script that makes sense, something rarely seen in horror films.
The flow of the story is so viscous at times that it's almost as if you can imagine the events in the film occurring in real life. Three decades after its release, the film will still make the hair on the back of your neck stand up. Because of this, many have championed Romero as a controversial entity in the genre and someone who will forever be imitated and hailed as an innovator. However, more than anything else, Romero knows how to tell a good story, creating relate-able characters and putting them in situations that bend our reality, rather than distort it and make it unbelievable.
That, my friends, is the essence of true horror.
However, without the acting performances of little-known actors David Emge, Scott H. Reiniger, Gaylen Ross and Ken Foree [
Halloween
,
The Devil's Rejects
], the only actor to garner consistent work after the film, "
Dawn of the Dead
" may have never been in a place to enter our dreams and captivate us for decades. Over the course of the 127-minute film, the quartet is
in a fight for their lives, but manage to squeeze in a few laughs and some heartfelt moments while attempting to survive seeming inescapable battles from both zombies and reckless bikers in a desolate mall. It's almost as if Romero wanted to create a bloody version of a "
Scooby Doo
" adventure and show what would really happen if zombies walked the earth. (Editor's Note: For a True Scooby Doo experience check out :
Humongous
)
In spite of all of this, the film is far from perfect, as the opening 10 or 15 minutes are a bit slow to put the story together. It is here where some impatient couch potatoes will opt out of the film, failing to see what the film is trying to project, which is the anarchy and unstableness of our society and how it is not yet ready to defend itself against a greater and misunderstood evil, death. Nevertheless, things eventually come together in a way that no horror film has been able to duplicate since.
It is because of this that "
Dawn of the Dead
" is still a trademark in horror cinema and will forever be etched in every fanboy's heart.
(One More Editor's Note: Dawn of the Dead was retitled "
Zombie
" in Italy and other countries. Italian Schlock master Lucio Fulci jumped on that bandwagon and made
Zombi 2
.
Zombi 2
spawned three more sequels, none of which compare to the original. But let that be a credit to
"Dawn of the Dead
" since imitation is the highest form of flattery.)